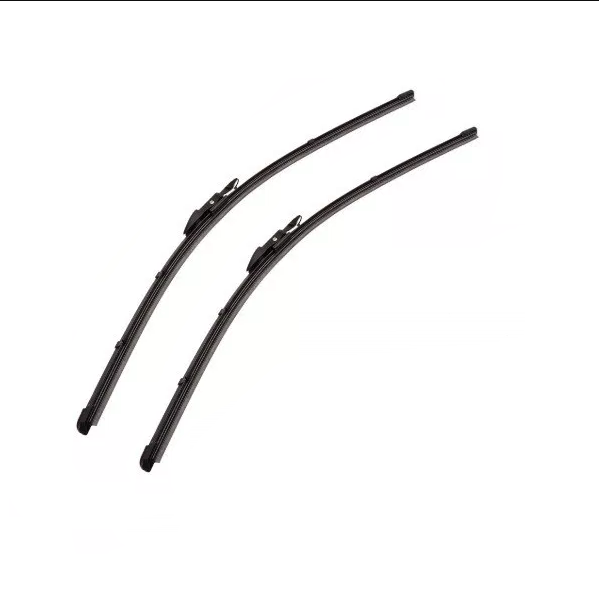 Over a period of time, VW Van Wiper Blades will begin to wear. When this wear starts to happen to VW Wiper Blades you may start to notice smearing, juddering or even just poor performance clearing the screen. To ensure you can have a pleasurable driving experience and ensure the safety of you and other drivers it is important to make sure that genuine VW wiper blades are changed regularly in pairs. At VW Van Parts Direct we supply genuine sets of Front Wiper Blades, and individual Rear Wiper Blades all sourced directly from VW UK.
How often should you change your VW Van Wiper Blades?
We would recommend that Volkswagen Commercial Vehicle wiper blades are changed at least every 12 months depending on the number of miles that you drive each year and the amount of UV light from the sun they are exposed to. VW Windshield Wipers are constructed from rubber which degrades over time, with use and from UV exposure. Over time the rubber on the windscreen wipers will become harder and more brittle which can cause cracks, tears and stiffness to the blade. This will result in poorer performance from your wiper blade.
Why should I buy OEM / Genuine Wiper Blades?
From many years working with VW, in our experience, there is nothing better than genuine (OEM) wiper blades. They simply work better than the after-market, non-genuine options. OEM Wiper Blades were designed to work specifically with your exact windscreen, this means a spring that was designed to keep the wiper pressed to your windscreen at exactly the right pressure. The composition of the rubber is of a higher quality which means the wipers will last longer and you do not need to struggle with adaptors which are required for many aftermarket wiper-blades.
Save money with Wiper Blades from VW Van Parts Direct:
VW Transporter T6.1 Wiper Blade Set – Only £38.77
VW Crafter Wiper Blade Set– Only £40.26
VW Amarok Wiper Blade Set – Only £42.01
View all Genuine Wiper Blades at VW Van Parts Direct here
Stay up to date with all of our offers and promotions via our Facebook Page.